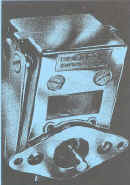 Enercon Motors in Shreveport, LA
Signal Equipment Company South is your resource for reliable control system motors in Shreveport and South Shreveport, LA.
---
Enercon Model 45 Rotary Drive
Enercon's 45 Rotary Drive offers highly accurate, reliable, low-cost rotary positioning with a unique combination of operating features. It's designed to function at 120V–60hz ranges, making it ideal for classic traffic indicator systems. We supply these rotary drives to customers specific to their system and can make sure you have the component you need to ensure reliable functionality at all times.
Key benefits
Instant start, instant stop with full torque, no clutch or brake, no override
Accommodates up to 15 lbs. axial thrust; up to 5 lbs. radial thrust loads
Direct, slow speed rotary motion without gears
No radio interference
Permanent lubrication
High impedance protection
---
Additional Control System Motors Available
In addition to Enercon's 45 Rotary Drive, we also offer additional control system motors to ensure indicator systems remain powered and functional. Contact our Louisiana office to learn about the various units available that will operate on different voltages. Single unit or double units are available.
Call to Inquire About Enercon Motors
Signal Equipment Company South provides reliable Enercon motors for a variety of traffic control applications. Call us today at 318-222-7373 to learn more about Enercon motors or the various other continuous duty, impedance-protected motors we offer and how to leverage them into unparalleled reliability for pedestrian and vehicle indicator systems. We also offer highway control cabinets and traffic signs.